Shannon Capacity of LTE in AWGN can be calculated by using the Shannon Capacity formula:
C=B*log2(1+SNR)
or
C=B*log2(1+P/(B*No))
The signal power P is set at -90dBm, the Noise Power Spectral Density No is set at 4.04e-21 W/Hz (-174dBm/Hz) and the bandwidth is varied from 1.25MHz to 20MHz.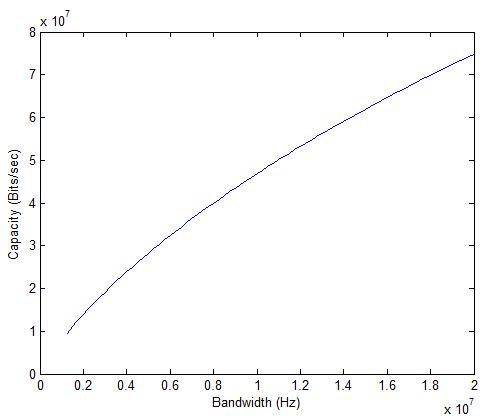 It is seen that the capacity increases from about 10Mbps to above 70Mbps as the bandwidth is varied from 1.25MHz to 20MHz (keeping the signal power constant). It must be noted that this is the capacity with a single transmit and single receive antenna (MIMO capacity would obviously be higher).
More than 20 years of experience in various organizations in Pakistan, the USA, and Europe. Worked as a Research Assistant within the Mobile and Portable Radio Group (MPRG) of Virginia Tech and was one of the first researchers to propose Space Time Block Codes for eight transmit antennas. The collaboration with MPRG continued even after graduating with an MSEE degree and has resulted in 12 research publications and a book on Wireless Communications. Worked for Qualcomm USA as an Engineer with the key role of performance and conformance testing of UMTS modems. Qualcomm is the inventor of CDMA technology and owns patents critical to the 4G and 5G standards.