We have previously discussed the theory of Planar Inverted F Antennas (PIFA), now let us look at a practical example. Shown below is the rear view of a Samsung Galaxy S phone with six antennas. The description of these antennas is given below.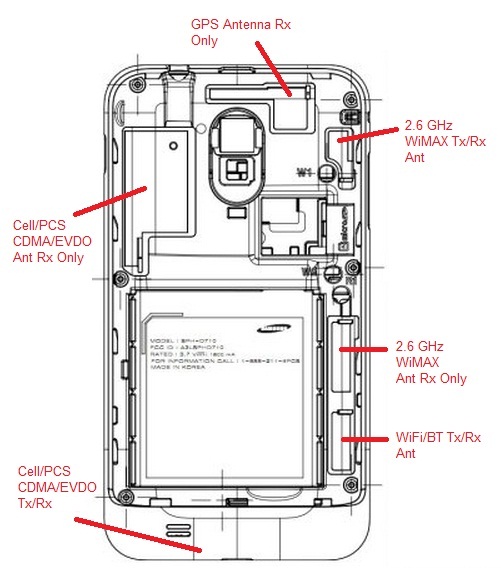 1. 2.6 GHz WiMAX Tx/Rx Antenna
2. 2.6 GHz WiMAX Antenna Rx Only (as a diversity antenna)
3. WiFi/Bluetooth Tx/Rx Antenna
4. Cell/PCS CDMA/EVDO Tx/Rx Antenna
5. Cell/PCS CDMA/EVDO Rx Only (as a diversity antenna)
6. GPS Antenna Rx Only
The figure above shows the top conducting plane of the PIFAs. The bottom conducting plane (ground plane) is one large plane that extends throughout the length and breadth of the phone.
John has over 15 years of Research and Development experience in the field of Wireless Communications. He has worked for a number of companies around the world including Qualcomm Inc. USA. He has an MS in Electrical Engineering from Virginia Tech USA and has published his work in international journals and conferences.