We have previously discussed the theory of Planar Inverted F Antennas (PIFA), now let us look at a practical example. Shown below is the rear view of a Samsung Galaxy S phone with six antennas. The description of these antennas is given below.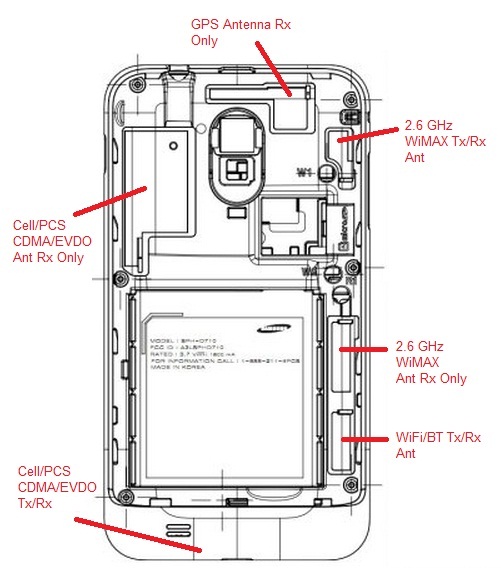 1. 2.6 GHz WiMAX Tx/Rx Antenna
2. 2.6 GHz WiMAX Antenna Rx Only (as a diversity antenna)
3. WiFi/Bluetooth Tx/Rx Antenna
4. Cell/PCS CDMA/EVDO Tx/Rx Antenna
5. Cell/PCS CDMA/EVDO Rx Only (as a diversity antenna)
6. GPS Antenna Rx Only
The figure above shows the top conducting plane of the PIFAs. The bottom conducting plane (ground plane) is one large plane that extends throughout the length and breadth of the phone.
More than 20 years of experience in various organizations in Pakistan, the USA, and Europe. Worked as a Research Assistant within the Mobile and Portable Radio Group (MPRG) of Virginia Tech and was one of the first researchers to propose Space Time Block Codes for eight transmit antennas. The collaboration with MPRG continued even after graduating with an MSEE degree and has resulted in 12 research publications and a book on Wireless Communications. Worked for Qualcomm USA as an Engineer with the key role of performance and conformance testing of UMTS modems. Qualcomm is the inventor of CDMA technology and owns patents critical to the 4G and 5G standards.